Protecting On-line Images:
As photographers we rely on our images to showcase our artwork in the hope of enticing more clients and increasing our sales and in today's technological age the main medium are via a website, social media site like Facebook or an on-line internet gallery such as FlickR or 500px. But its all under threat due to the forthcoming introduction of the Enterprise and Regulatory Reform Act and the Orphan Works Directive 2012/28/EU, which consider images without owner identity to be orphaned works. (Sites like Facebook, FlckR and Twitter strip exif data from images when they are uploaded thus making ownership identity difficult!)
I have been watching these developments over the past 9 months and recently submitted an article which is due to be published in the next few weeks. So whilst these changes do make for scary reading there are several things the photographer can help in protecting on-line images instead of throwing up his arms in horror or hiding his head in the sand pretending it isn't really happening.
In this blog post I will discuss two of them: watermarking and cropping.
Watermarks:
The most common, and possibly strongest, technique for protecting on-line images is to place a visual copyright watermark on the image. Image watermarks come in a range of styles: from a full copyright symbol across the image to simply small text in the corner of an image containing the copyright symbol, date, and name of the copyright holder. This is sufficient for some images but for others it offers a mass distraction. However, we can make the watermarks more effective by placing them on the image where it would be difficult or even impossible to crop out, clone out or remove completely.
This could be done by placing our name in several different places on the image. The following photograph is an example of how we can place our names more effectively.
In this instance I have placed my name in the bottom right corner in a different colour so that it can clearly been seen but I have also placed my name on the back of the shield bug and on the front left leg in colours that are not immediately visible. To make it simpler for you to see where my name is I have changed all the text to red and made it slightly bigger.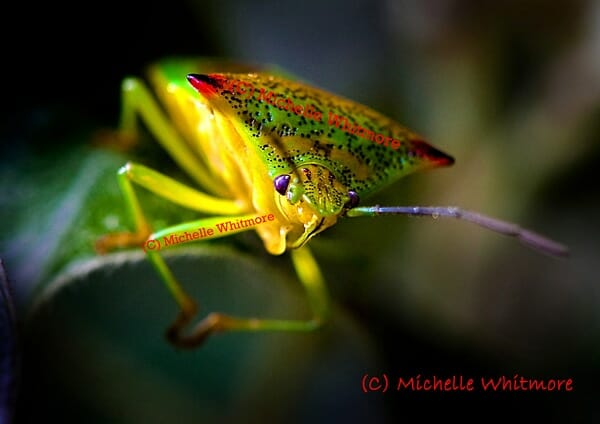 This method may take a few minutes longer but the watermarks don't distract from the image too much and it could be said that they are slightly invisible because they are not obvious. And if they're not obvious the greater the chance of being overlooked!
Cropping the original image:
The second best practice would be to never to upload the original crop or original composition of the image online.
To illustrate the point better: if you were to upload the following image, crop off the portion which the red arrow is pointing to.
In cropping the photo I have made sure I have cropped a portion that is not easily reproducible, if I had cropped the left side of the beetle the photo it could easily be reproduced as it is out of focus.
Why would cropping help in a case of image theft?
Let's say I am in a position of authority and you come to me, telling me that Mr X has stolen your image. I ask Mr X and he says no, it is you that have stolen the image then who am I to believe? By presenting to me your cropped image, which is the complete original crop and the full picture, it makes it easier for me to come down in your favour.
Just don't forget to save the original before crop the image and save the cropped image as a different name. eg MW-IMG4938-original & MW-IMG4938-cropped & MW-IMG4938-web
Whilst these methods are not totally identity-proof or theft-proof they do go some way to protecting on-line images.
I'm sure I will be posting more on the subject at a later date as it looks like being a hot potato for some time to come.
Do you have any tips/methods that you use that you'd like to share? Please let us know.